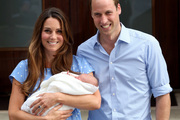 Princess Kate and Prince William recently had their first child A.K.A "The Royal Baby" at the St Marys Hospital. Queen Elizabeth wasn't that patient because her holiday in Scotland was coming very soon just as the baby was.
It says that they are planning to name it either James or George. I prefer James because I think it's a name not many people have. Anyway, everyone was happy and a heap of people around the world had already had their decorations and costumes set for celebration.
I am glad that Kate and William has had a boy/son. What a big deal!